Jobs
Multilingual language support teacher
for Primary!
Are you committed to Playful Learning?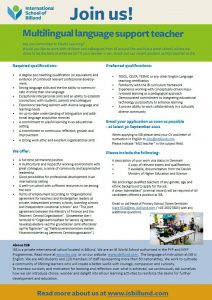 Would you like to work with children and colleagues from all around the world at a great school, where we strive to be the best at what we do? If your answer is yes, check out our vacant position as MLS teacher at ISB.
Required qualifications:
A degree plus teaching qualification (or equivalent) and evidence of continued relevant professional development
Strong language skills and the the ability to communicate in more than one language
Exceptional interpersonal skills and an ability to establish connections with students, parents and colleagues
Experience teaching learners with diverse language and learning needs
An up-to-date understanding of bilingualism and additional language acquisition theories
A commitment to playful learning in an educational setting
A commitment to continuous reflection, growth and improvement
A strong work ethic and excellent organisational skills
Preferred qualifications:
TESOL, CELTA, TESMC or any other English Language teaching certification
Familiarity with the IB curriculum framework
Experience working with conceptually-driven inquiry-based learning as a pedagogical approach
Demonstrated commitment to integrating educational technology purposefully to enhance learning
A proven ability to work collaboratively in a culturally diverse community
Read more by clicking on the image!
Practicalities
When applying to ISB please send your CV and letter of motivation in English to [email protected] and include the following:
A clean 'børneattest' (criminal record) will be required of all candidates offered a position at ISB.
About ISB
ISB is a private, International School, located in Billund. We are an IB World School authorized in the PYP and MYP Programmes. Read more at www.ibo.org, and visit our website www/isbillund.com/
The language of instruction at ISB is English. There are 400 students and around 50 different nationalities represented at ISB.