Student support
ISB is an inclusive school designed to meet the needs of all learners.   Students with educational needs will be supported to the fullest extent possible so that all can experience consistent success.
With regard to admission, applicants are required to disclose their child(ren)'s known educational needs, medical conditions, or special requirements. ISB retains the right to end collaboration with a family if a student is found to have undisclosed needs that we cannot support at school, or that prevent the student from functioning within ISB's inclusive structure.
When a student has special educational needs, ISB's well-being coordinators will provide expertise to teaching teams as needed.  If in-school support is not sufficient, we are able to call on external agencies, including the municipal Pedagogical Psychological Support (PPS), for additional help.
The below overview and much more information can be found in our Inclusion Policy.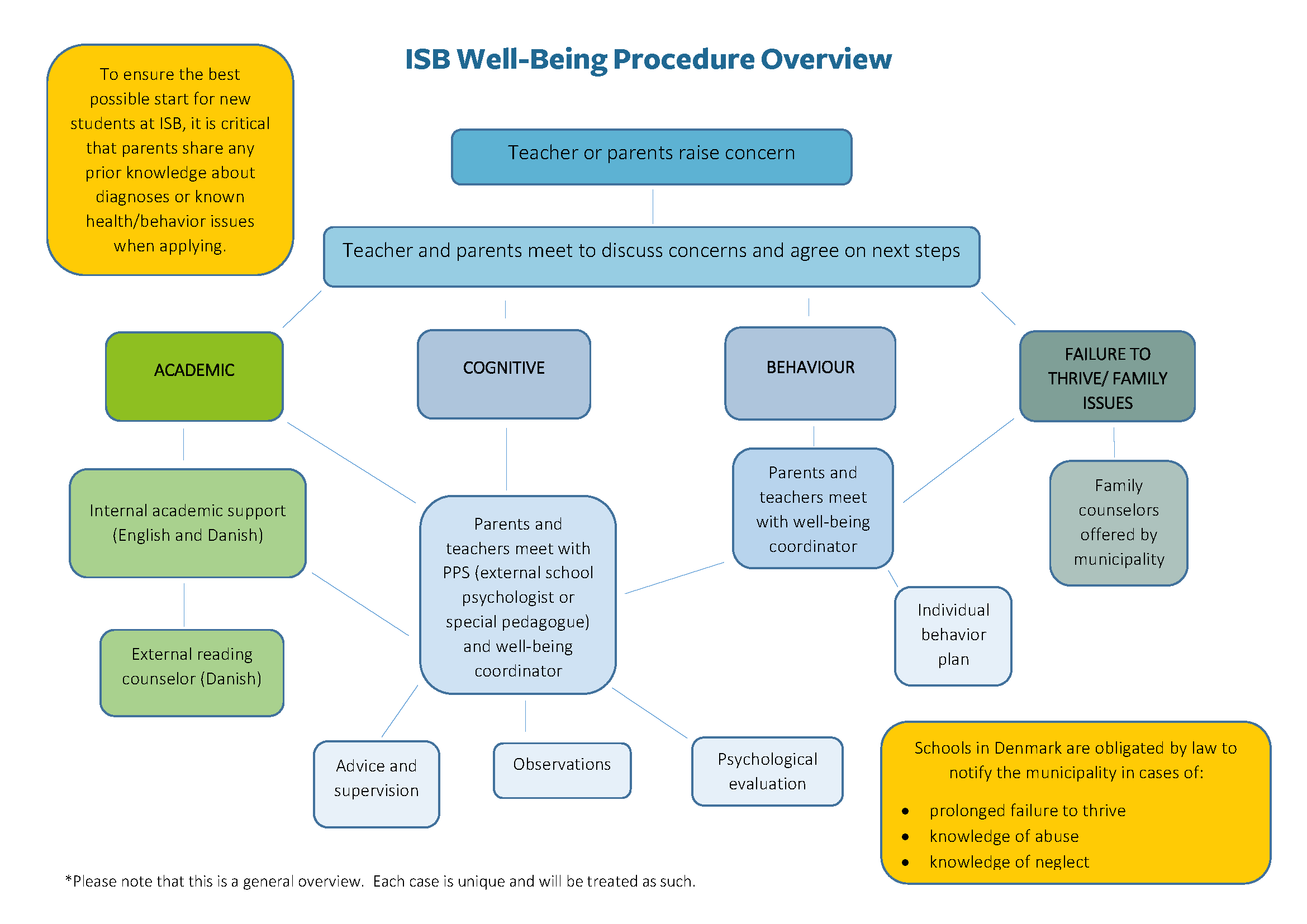 Duty to report
As professionals we have a special duty to report which supersedes our duty of confidentiality. If we believe a child is in need of special support or has been subjected to physical or psychological abuse or other violence, we have an obligation to notify the authorities.
In cases involving suspicion of parental violence or abuse, this notification must be sent by ISB without informing the parents. The authorities then take over the case and talk with the child(ren). Parents are contacted directly by the authorities once this conversation has been held.  The school then participates in information-gathering meetings with parents and the authorities, at which point future proceedings and the school's role are agreed upon.
In cases involving failure to thrive, ISB will make every attempt to submit a report in collaboration with parents. In situations where this is not possible, ISB will inform parents that we are making a report. The school then participates in information-gathering meetings and follow-up with whichever entities the home municipality considers relevant. In cases where there is no improvement in a child's well-being within a reasonable period of time, or where no process has been initiated, ISB will submit another report, just as we will submit a second report if we experience serious episodes or changes, even in the midst of an ongoing process.
ISB also participates in Billund Municipality's interdisciplinary meetings where, every third Monday of the month, we have the opportunity to convene a team of professionals to discuss a specific case. Parents of the child in question attend these meetings.  In Billund Municipality, these meetings can also be considered a "report."